where are they now?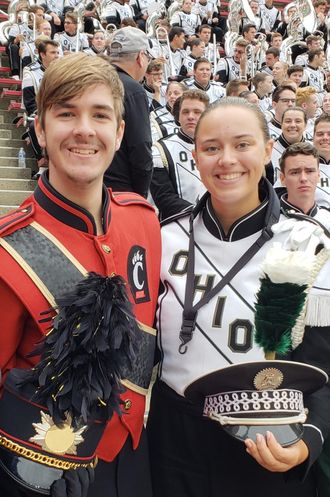 Nothing is more triumphant than to see students go above and beyond with their passion of music and the performing arts. Most students begin their musical studies in grade school and continue through high school. For some, the desire to do MORE goes beyond school. But what happens after graduation, what's next for our students? For many, the journey may end but it doesn't have to! There are many independent circuits and groups that students can seek out for themselves outside of school.  Participation can begin with some groups while still in high school. Stebbins has had the opportunity to have past musicians and guard compete indoor circuits while in high school in the Marching Winds and Percussion Ensembles through MEPA and WGI Sport of the Arts.  These type programs help students  continue in the winter months after fall marching season ends. The Winds and Percussion continue with marching, performing intricate music scores and learning body and movement which enhances the show's overall general effect and continues building their talents. Upon graduation there are still many opportunities to keep performing as well. Musicians and performers can take their talents to a whole new exciting level! Some students continue into their college marching programs, major in music specialties, become educators, compete in MEPA, WGI, Drum Corp International, professional bands and recreational groups.
Music and the performing arts is an experience like no other!  It is a vital outlet to be creative and aids in staying healthy, happy and proven to be great for the mind, body and spirit. We are very proud of our former students and love to hear how they are taking that next step beyond high school and wish them all nothing but great success!  Thank you for keeping music and the performing arts a part of your life journey! 
We would love to add more students, please let us know of any past students from band, guard or orchestra reaching these achievements so we can showcase them here!
Alayna Brashears is a 2018 graduate of Walter E. Stebbins High school and an alumni of the award winning Stebbins Marching Band, symphonic band, jazz band and pep band and served as section leader. Alayna currently attends Ohio University majoring in Integrated Media in the class of 2022.
During high school she was a member of Student Staff in Inertia Independent, an Independent WGI Winds group. During her time with Inertia she is a two time Mid East Performance Association Class A Gold Medalist Winds Champions and a WGI World Champion Gold and Silver Medalist among other regional championships.
Alayna currently plays tenor sax in the high energy Ohio University Marching 110 which is 245 members strong.  She is part of the Varsity Band, performing across the country in places such as Texas, Pittsburg, Paul Brown Stadium, Heinz Field, the Ohio Theatre; and was scheduled to go on a 10 day Japan tour in May 2020. 
"Being in the marching band at Stebbins helped me learn how to be more confident in myself and, eventually, how to become a leader. I am incredibly thankful for the friends and professionals I met through the program, many of which I am still in contact with today. I gained invaluable skills during my time with the Stebbins band, and I'll cherish my memories of the program for the rest of my life."
amira lucas
Amira Lucas is currently a junior music major at Ohio University with an emphasis in music history. She is involved in Ohio University's Flute Studio, Flute Choir, Symphonic Band, and is the secretary for the OU Flute Club. During her time at W. E. Stebbins High School, she was the 2018 recipient of the John Phillip Sousa Award, received the outstanding soloist award at the 2017 Dixie Classics in Richmond, VA, played flute for the Stebbins musical "Annie," was the featured flute soloist for Inertia Independent Winds in 2018, and was awarded superior ratings at the District 12 Solo and Ensemble adjudicated events (2015-2018). Amira was also the flutist for the Vandalia Youth Theatre productions of the "Hunchback of Notre Dame" and "Chitty Chitty Bang Bang" in 2018 and 2019. Lucas' teachers include Alison Brown Sincoff (currently), Dr. Willie Morris, and Nancy Harrison.
Connor Schock
Class of 2018- University of Cincinnati, Bearcat Marching Band, Inertia Independent Winds
Share photo gallery
Connor Schock is a 2018 Stebbins graduate. While in high school he was also a member with Inertia Independent Winds and won numerous awards including MEPA Winds Class A Gold Medalist Champion and WGI World Gold Medalist. Connor is attending the University of Cincinnati. Majoring in Psychology.  Connor is a trumpet player for the University of Cincinnati Bearcat Bands. 
"Being apart of the Stebbins Band program completely changed my life for the better. Not only did it help me foster a love of music and performance, it also allowed me to form friendships with so many talented and passionate people that have lasted throughout the years. It truly is a family"
sam chastain
Sam Chastain is a member of the Stebbins Graduating Class of 2016.  Sam is majoring in Animal Biology with a focus in Herpetology at the University of Cincinnati and partakes in their band programs! The UC Bearcat Bands strive to make the University of Cincinnati the most musical campus around! Sam has played in the Marching band, Basketball Pep band and the Concert band. In her time at UC, she  has traveled across the country and cheered on the basketball or football team (making it on national T.V a few times), marched along side DCI members and have even been instructed by DCI instructors, and made lasting friendships!  The Bearcat Bands provide access to musical excellence and create an educated, informed citizen who is deeply connected to their humanity by giving students the opportunity to run their own band and practice leadership inside the band and in the community. 
At Stebbins, Sam was a member of the Marching band, Symphonic band, Pep band and even performed in a pit orchestra.  "The staff at Stebbins pushed me to become a better musician and leader, not only in music but in my everyday life. It taught me how to prepare myself for the time restrains of the real world and organize my schedule to not only do what has to be done, but to also give myself time to recognize my own needs."
Bryson owens
Bryson is an alumni from the class of 2019. He is currently attending Sinclair Community College in pursuit of a degree in Visual Communication. Bryson has marched with Cap City Percussion as a visual ensemble member (2020).
joseph rivetti
Class of 2018 - Wright State University, Boston Crusaders, Juxtaposition, Inspire
Share photo gallery
Joseph Rivetti is a 2018 Stebbins graduate and is currently a Music Education major at Wright State university. He is part of the Clarinet studio along with wind Symphony. In high school Joseph received the Semper Fidelis award and participated in Symphonic Band, and the color and winter guard. Joseph also performed with the Boston Crusaders Drum and Bugle corps in 2018 and 2019 and got the George Zingali award for best color guard both years. In 2019 Joseph performed with Juxtaposition world winter guard and in 2020 he competed with Inspire world winter guard. He is also currently on the staff for the Stebbins high school color and winter guard and has helped the guard win many "best color guard" awards during the fall season and many top three placements and medals during the winter season.