This week in Band
THIS WEEK:
Booster Meeting:
Due to the Snow Day the music booster meeting has been rescheduled for Tomorrow Monday 3/20 @ 7pm. We will be going over many important details for the coming year so if you would like to be part of the discussion please come join us!
Symphonic Band:
The past two weeks Mr. Gillem and I have been listening to students audition for our top group Symphonic Band. There were some OUTSTANDING auditions, and we are proud of everyone who auditioned.
The Symphonic Band is our premier group. They perform at multiple competitions and venues throughout the year. This group has already competed at the OMEA District 12 Large Group competition and will finish out the year at the Music In The Parks competition in Loveland and spend the rest of the evening at Kings Island. Speaking of.…
Kings Island:
If you are attending the Kings Island trip, which all Symphonic members should, your forms and payment are due by next Monday 3/27. If paying by check, please make it out to Stebbins Music Boosters. 
If you have any questions about this trip, please email me. 
Talent Show:
The Stebbins Jazz Band has been invited to play for the talent show this Friday 3/24. Just like last year we will perform at the end of the show. This group has been absolutely amazing this year and they just continue to keep getting better and better. 
The talent show will start at 6:00pm and conclude with the Jazz Band around 7:00pm. Come and support the students of Stebbins High School!!
Here is your schedule for the week!
Monday 3/20: Booster Meeting
Time - 7pm
Place - Stebbins Band Room
Tuesday 3/21:
No events
Wednesday 3/22:
No events
Thursday 3/23: Jazz Band Practice
Full Band - 3:30-4:30
Combo - 4:30-5:30
Friday 3:24: Talent Show Performance
Report time - 6:00pm
Warm-up/Rehearse - 6:15-6:45
Perform - 6:45-7:15 (estimate)
Saturday 3/25:
No events
Sunday 3/26:
No events
spirit wear and fee payments
Stebbins Music Booster Merchandise is now LIVE!!! Stop by and pick up the latest merchandise available from the Stebbins Music Boosters Club. The Music Booster will utilize the Merchandise sales as a fundraiser for all groups. Please support the Stebbins High School Music Boosters Club Today. Click on the Links and you can purchase Merchandise for Color Guard, Band and Orchestra, as well as the Stebbins Music Boosters. Stop in and check it out today! The new Merchandise Store does not have a limited timeframe. We will attempt to update with new designs as time allows. 
For those of you looking to make Winterguard Fee payments click here
Stebbins Music Boosters
The Stebbins Music Boosters work hard to support all of the Stebbins High School Music Departments, it take and amazing effort to make of our performances be the best that they can be. The Stebbins Music boosters meet on the second Tuesday of the month through the school year. Meetings are open to anyone who would like to attend and we encourage parents with children who are entering the Stebbins Music Programs to attend and participate (as much as you can and would like) in the booster program. It is a great way to get involved in what your child or children are doing. It provides a unique opportunity to see you child grow, build confidence, and learn skills in team work and leadership. Volunteer opportunities exist for food support at events, uniform assistance, prop building, and of course event day operations! Join us at our next meeting on January 10, 2023 in the band room, we look forward to seeing everyone at the meeting and at different events throughout the year.
Upcoming 2023 Important Dates!
February:
27th - Concert & Symphonic Band Concert, 7pm
March:
6th - NO SCHOOL for students
7th - Jazz Band Rehearsal, 3:30-5:30
8th - Spaghetti Fest, 5pm-7pm
9th - Large Group Rehearsal, 6pm-8pm (Symphonic Band Only)
10th - Large Group Competition @ West Carrolton High School, Time TBA
14th - Booster Meeting, 7pm
17th - End of 3rd Grading Period
April:
3rd - 10th - SPRING BREAK NO SCHOOL
11th - Booster Meeting, 7pm
13th - Marching Band Parent Meeting & Show Announcement
18th - Field Commander Clinic
21st - Field Commander Audition & Interviews
25th - Leadership Interviews
28th - Leadership Interviews
May:
8th - Concert & Symphonic Band Final Concert, 7pm
9th - Evening of Jazz, 7pm
15th - Last day for Seniors
18th - Graduation
22nd - First Marching Band Practice of 2023 6-9pm
25th - Last Day for Students
2021 Stebbins High School Winter Concert
Welcome! The Mad River Local Schools Music Department has a strong history of being the heart of both the community and the school district.  At Mad River, music is valued as core subject for the soul and is considered an important part of educating the whole student.  Our four elementary schools are unified in their development of a strong musical foundation and provide grade level music performances throughout the school year.  Our four elementary choirs are highly successful and perform for both the school and throughout the community.  At our two middle school buildings, orchestra, choir, and band programs are seen as important academic subjects and provide great performance opportunities for all students.  The Walter E. Stebbins High School Music Department is home to award winning choir, band, and orchestra programs who have earned Superior Ratings at the District, State, and National levels.  Music at Stebbins includes a wide variety of ensembles and classes including courses in theater, jazz, and rock.  After school activities include award winning fall and winter guard programs, outstanding musical theater productions, and the Stebbins Pep Band.  The Mad River Local Schools Music Department would like to thank the Stebbins Music Boosters, the Mad River Local Schools staff and administration and the entire Riverside Community for all of their support.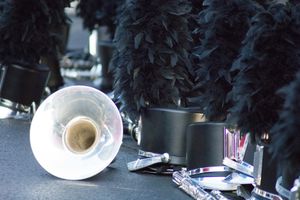 calendar & Events
Keep up to date in our calendar / events section, it can change quickly so please check back often.  Come out and support our talented  ensembles and show your Indian SPIRIT!