THIS WEEK IN BAND 5/16/22
Hello Everyone,
It was beautiful this weekend. We only have 9 more days of school. 1 more day with the seniors. It's another busy week so make sure you are checking your calendar.
Rookie Camp
Tomorrow is the first of two days of rookie camp. 
Anyone who is going into their first year of Marching Band should attend from 4-6pm.
Section leaders and incoming seniors should attend as well to meet their rookies.
On Wednesday, those section leaders and incoming seniors who are part of both the rookie camp and symphonic rehearsal will have food provided in between. 
Thank you to those leaders who will be here all day!!
Monday 5/16 - 4-6pm
Wednesday 5/18 - 4-6pm
Symphonic Rehearsal
On Wednesday 5/18, we will be having a rehearsal from 6-8 with all members of the the 2022-23 symphonic band. We will go over all music for graduation.
Graduation
This Thursday is graduation. All Seniors and 2022-23 Symphonic band members should attend. Here is the order of events.
6:00pm - Arrive at Nutter center
6:15pm - Warm up
6:30pm - Run through music
7:00pm - Graduation starts
Please let me know if you have any questions. You will need to take your instruments home on Thursday and bring them to the Nutter Center yourself. Any big instruments and percussion instruments will be loaded on the truck to be brought to the Nutter center. 
DAYTON DRAGONS
If you are available, please sign up for these games. Not only will they help with band fees, but this is the biggest fundraiser of the ENTIRE YEAR. Most of our profits for the music program come from this fundraiser. Music Program Fees will go up if we can not support the Dayton Dragons Concessions Stand. In 2021 we received $25,000 in funds from working the Dayton Dragons Stand, which is what enables Stebbins to have a music program at the level that we all love! Please everyone do your part to help continue our group's  tradition and lets get these Dayton Dragons signups filled.
Here are all the dates for the Dragons games. 
May: 5/17, 5/18, 5/20, 5/21, 5/22, 5/31 
June: 6/1, 6/2, 6/3, 6/4 ,6/5, 6/7, 6/8, 6/9, 6/10, 6/11, 6/12 
           6/21, 6/22 ,6/23, 6/24, 6/25, 6/26 
July: 7/4, 7/6, 7/7, 7/8, 7/9, 7/10, 7/22, 7/23, 7/24 
August: 8/3, 8/5, 8/6, 8/7, 8/10, 8/12, 8/13, 8/14, 8/31 
September: 9/2, 9/3, 9/4
Right now, we only have 4 families who have signed up to work the games. We need more people to help. If you have any questions, please don't hesitate to email me. All Stand Leads should be signing up for the games they plan on leading as well.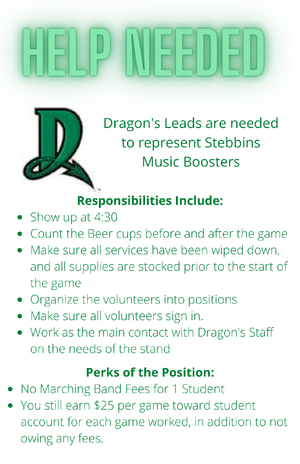 Dragons Leads:
If you are interested in being a lead, please contact myself and stebbinsmusicboostersecretary@yahoo.com. 
We currently have 2 leads but would like at least 2 more to make it easier for everyone involved.
---
Symphonic Rehearsal:​ 
There will be one more after school Symphonic Rehearsal on May 18th. This will be for all 2022-23 Symphonic Band members. We will be working on Graduation Music as well as learning what our sound will be coming Fall 2022. 
Wednesday May 18th - 6-8pm 
Final dates for the year! 
May 16th - Rookie Camp 4:00 - 6:00pm 
May 17th - MRMS Final Concert 
May 18th - Rookie Camp 4:00 - 6:00pm 
May 18th - 2022-23 Symphonic Band Graduation Rehearsal 6:00-8:00pm 
May 19th - GRADUATION 
May 24th - First Full Marching Band Rehearsal 6:00-9:00pm 
​Seniors​
I would like to Congratulate all graduating seniors. You have had such a successful year, especially coming off a pandemic. I am proud of all the accomplishments you have made and continue to make. Please keep in touch and never forget who you are linked to.
Mr. Alex Lindon 
Walter E. Stebbins High School Director of Bands
The Stebbins High School Marching Band is proud to present their 2022 competition show "A Night in the City" 
Any new members should join us for a Rookie Camp on May 16th & 18th from 4 - 6pm 
Please join us for our first FULL BAND rehearsal on May 24th from 6 - 9pm.
Upcoming 2022 Performances!! 
 May 9th - Spring Instrumental Concert 7:00pm  
May 10th - Stebbins Jazz Band Concert 7:00pm  
May 12th - Music Awards 6:30  
May 17th - MRMS Final Concert  
May 19th - GRADUATION 
2021 Stebbins High School Winter Concert
Welcome! The Mad River Local Schools Music Department has a strong history of being the heart of both the community and the school district.  At Mad River, music is valued as core subject for the soul and is considered an important part of educating the whole student.  Our four elementary schools are unified in their development of a strong musical foundation and provide grade level music performances throughout the school year.  Our four elementary choirs are highly successful and perform for both the school and throughout the community.  At our two middle school buildings, orchestra, choir, and band programs are seen as important academic subjects and provide great performance opportunities for all students.  The Walter E. Stebbins High School Music Department is home to award winning choir, band, and orchestra programs who have earned Superior Ratings at the District, State, and National levels.  Music at Stebbins includes a wide variety of ensembles and classes including courses in theater, jazz, and rock.  After school activities include award winning fall and winter guard programs, outstanding musical theater productions, and the Stebbins Pep Band.  The Mad River Local Schools Music Department would like to thank the Stebbins Music Boosters, the Mad River Local Schools staff and administration and the entire Riverside Community for all of their support.     
calendar & Events
Keep up to date in our calendar / events section, it can change quickly so please check back often.  Come out and support our talented  ensembles and show your Indian SPIRIT!