This page is just a quick reference for quick parent and member information.  ALWAYS continue to read our department updates!
2022 Band Covid-19 Procedures 
The health and safety of our students is the number one priority.  As we begin the season, there are several changes that all students and staff must follow due to Covid-19.  In order to still have this year's season and be able to continue to rehearse and eventually compete, the following guidelines and precautions must be strictly followed by all members. 
We have prepared for the best and most exciting marching band show in the history of the program.  We are looking forward to our best season ever but each of the listed items must be followed without exception. 
What Students Should Bring: 
Large Water Bottle or water cooler: Students must have their own water bottle and there is nowhere to refill this that is currently available.  We recommend a gallon water bottle or water cooler that will last through a 3 hour practice.  During band camp, our booster program will provide additional sealed water bottles for the long days. 
Gym Shoes/Sunscreen/Comfortable Clothes/rain jacket when needed:  Students should come prepared for the weather.  Sunscreen is a must this time of year.  We will rehearse in the rain if the weather is not severe. 
A Pen: Students will need to fill out a Covid-19 check in form at the start of every practice.  Pens will not be provided.  Students cannot share any equipment so please bring a writing utensil. 
Emergency Medical Form: All students need to have an updated emergency medical form on file.  These forms can be printed from our website at stebbinsmusic.org.  These forms should be turned in at the first rehearsal to Mr. Carpenter.  We also have forms available to fill out at practice if needed. 
Instruments/Music/Flip Folders: All students should bring and take home their instruments at every practice.  We will only be storing baritones, tubas, guard equipment, and percussion items at school. These items will be kept in separate locations.  All other instruments must be taken home after each practice.  No students will ever share equipment.  Every student will receive their own flip folder with their own music at rehearsal.  No folders, music stands, or sheet music should be shared. 
Masks: Masks are mandatory when inside the building. Anyone in the school building at any time must have a mask on. This will not change. This includes when entering the building to use the restroom.  Masks can be face coverings such as a regular mask, scarf, neck gator, or face shield. 
Hand Sanitizer: Hand sanitizer will be available at every rehearsal.  We do strongly recommend that students bring their own if possible to each practice to remain as safe as possible. 
Covid-19 Procedures 
Outside Rehearsals:  We will be rehearsing outside almost the entire time for most sections.  Some rehearsals may need to be cancelled due to severe weather. 
Inside Policies:  Currently, only 10 people at a time can be indoors in one room.  Masks must be on all of the time. Only some members of the front ensemble will be rehearsing inside.  Baritones, tubas, percussion, and guard may go in briefly to get their equipment stored in separate areas but only less than 10 at a time.  All inside areas will receive a deep cleaning at the conclusion of every rehearsal.  Again, almost the entire band will rehearse outside for all rehearsals.  Restrooms will be open in the building for all students. 
Masks:  Again, all students should bring a mask.  Instructors will be wearing masks outside and inside.  Students are encouraged to wear masks when they are outside and not playing.  Again, all students must wear a mask inside all of the time. 
Smaller Groups:  Students will be in separate locations outside at Stebbins in groups of 50 or less including instructors during the first several rehearsals.  Students will not leave their group or their assigned location during these first summer rehearsals. 
Social Distancing: Students will be spaced out 6 feet apart during the rehearsal.  We will practice this social distancing policy the entire season unless learning, cleaning, or performing the marching drill of the show.  We will start learning drill the last week of July.  Students will still be spaced out to a degree during the drill.  There will be no close contact sets and students will never touch each other at any time during the show. 
Breaks: Students will not be socializing with anyone outside of their 50 member group during the first several rehearsals. Students should practice the six feet away from each other rule and always have their own water bottle. Again, no item or equipment should be shared. 
Arrival and Dismissal:  Students not get together and socialize before or after practice. Students should report to practice no earlier than 10 minutes before the start.  Students should go directly to their assigned group's location.  When rehearsal is finished they should leave immediately from their assigned location and head home.  Any students or parents congregating before or after practice will to be told to leave school property.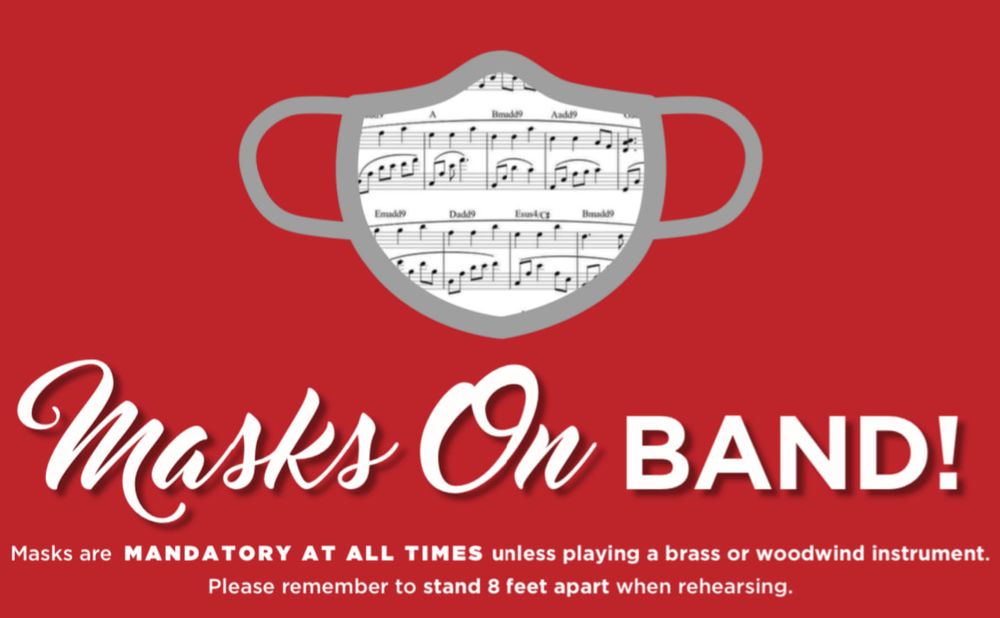 Make sure you have your medical form turned in!